Generous Community Scholarships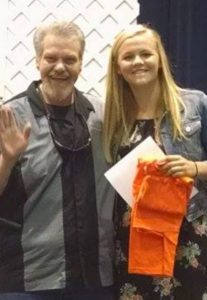 Summerville High-Joe Marshall present scholarship to Miss Bailey Richter

View Photos
Sonora, CA — The community has been generous in their support of Mother Lode students headed to college in the past, and this year is also very impressive.
One hundred and forty-five students graduated from Sonora High School and they earned a combined $205,000 in college scholarships. Also, an impressive 64 scholarships totaling $41,000 will be given out to the 110 graduates of Cassina High School, Theodore Bird High School and Sonora Adult School students.
Summerville High School graduated 113 students and they were awarded a total of $160,000.
Calaveras High School had 206 graduating seniors. Graduating individuals were awarded a total of nearly $400,000 in scholarships.
Bret Harte Union High School District had 184 graduating seniors. Bret Harte students were awarded total of nearly $206,000 in scholarships.
Tioga had 18 graduating seniors this year and they were awarded at total of $171,150. Tarynn Warren received a $140,000 or $35,000 per year scholarship to Stevens Institute of Technology in New Jersey.
Don Pedro 15 students graduated and they were awarded a total of $29,400
One note, Clarke Broadcasting is pleased to announce it has awarded $2,000 scholarships to these four local high school seniors to help continue their academic studies.
Bailey Henington of Sonora High School
Dylan Clough of Cassina High
Bailey Richter of Summerville High School
Brooke Chandler of Don Pedro High