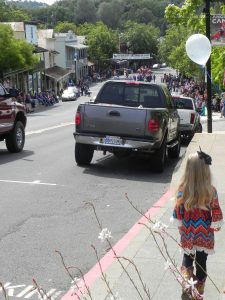 AC-Youth-Parade-Looking-Downtown

View Photos
There are several events happening in the Mother Lode this weekend.
The 2nd Annual Rummage Sale at Foothill Leadership Academy is a two day event that will be held at the Academy in East Sonora. Details about the event and some of the items for sale are here.
The Copperopolis Homecoming Heritage Day Celebration is also this weekend. The event listing says "Our "Locally World Famous" Homecoming Heritage Parade will feature an array of colorful characters, gunfighters, saddle queens, citizens, politicians and animals all both tame and wild." Details about the family fun, BBQ and Parade and locations for all the planned activities are here.
Reggae in the Hills  has started at the Calaveras County Fairgrounds and will continue through Monday. Details about the music festival type event are here.
The 8th Annual Farm & Ranch Tour is also this Saturday.  All five tour locations are in Columbia, more details about the event are here.
The VFW Hot Rods and Harleys Poker Run to support our troops begins in Copperopolis Saturday. More details are in their event listing.
It is also the Sonora 2nd Saturday Art Night, with music, art galleries, and shops open late in downtown.