T.U.D.'s Water Supply Improving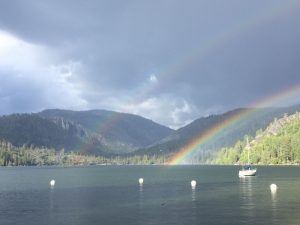 Pinecrest Lake - Following Weekend Rainfall

View Photos
Sonora, CA — The T.U.D. Board of Directors will vote whether to reduce the mandatory conservation requirements from the current 30% down to 24%.
It's on the agenda for Tuesday's meeting that will start at 2pm in the district meeting room. Late season precipitation has Pinecrest Lake spilling later into the season than a year ago.  T.U.D. meeting documents note that district staff members, however, are recommending that the Board stay with the 30% number to ensure that the district stays in compliance with state water board requirements.
T.U.D. will also take time to review the possibility of implementing a "Drought Revenue Recovery Fee," which would potentially be a rate increase to help cover costs stemming from the drought. The board will give input, and the draft proposal will go before a T.U.D. Water Committee on June 12.
Tuesday's meeting is open to the public.