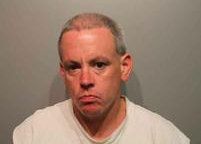 Mark Dantche

View Photos
West Point, CA — A man who reportedly may have gone fishing in the West Point area over the weekend is still missing but a ground and helicopter search has come up empty handed.
Family members reported 45-year-old Mark Dantche as missing on June 2. They told Calaveras County Sheriff's investigators that Dantche was last seen in Railroad Flat area Saturday night (May 30). Detectives says there are reports that he may have had plans to go fishing in the area between Winton Road and Blue Mountain Road in West Point over the weekend.
Neither Dantche nor his vehicle has been found, but investigators say his cell phone was used on Saturday night near Beardsley Reservoir in Tuolumne County. The area was searched by the Tuolumne County Sheriff's Office, United States Forest Service, and a CHP helicopter, but ended with no sign of Dantche.
Sherriff's officials have released this description of Dantche: he is a white male, with brown eyes, grey hair; 5' 9" tall, and 190 lbs. He was last seen driving a 1996 blue 4-door Subaru Wagon with a yellow kayak on top, license plate number 4YMF103. Anyone with information regarding Dantche's whereabouts is asked to call the Calaveras County Sheriff's Office at (209)754-6500.