High School Graduations Continue Tonight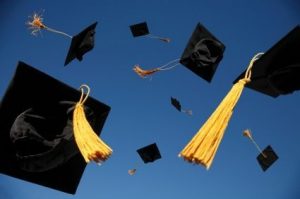 Graduation Caps

View Photos
The Sonora High School class of 2015 will receive their diplomas at a graduation ceremony this evening at Dunlavy Field on the school's campus.
Sonora High Principal Patrick Chabot was Thursday's KVML "Newsmaker of the Day".
"We will open the gates to Dunlavey Field at 5:30 p.m and the ceremony will begin at 7 p.m.," says Chabot. "The class of 2015 was a class with excellent students that put up with a lot of construction projects and they were part of some of the best sports teams in the history of the school (Sonora Girls Volleyball won the State Championship). The class of 2015 will be missed."
Handicapped parking will be different this year due to construction on the school campus. People who need these spaces will need to turn off of School Street instead of Shaws Flat. There will be an area near the auditorium dedicated to handicapped parking.
After twenty-two years with Sonora High School (beginning as a math teacher), Chabot is in his first full year as Principal. With his two decade loyalty to Sonora High School, Chabot said that he will return next year.
With the ongoing construction projects this Summer, power will be shut off to the Sonora High School campus for a period of four to six weeks. Because of that, Summer School and all of the Administration offices will be moved to the Cassina High School campus (by the Dome). Administration returns to the Sonora High Campus by the first day of school on August 19th. In addition, the pool will be closed this summer due to the lack of electricity.
Other High School Graduation Ceremonies:
Summerville High School / Connections Visual Performing Arts Academy's graduation is Friday evening, June 5th.
Tioga High will also hold their graduation ceremonies on Friday night, June 5th.
Additionally, Bret Harte High will also hold graduate ceremonies on Friday June 5th.
Don Pedro High School's graduation is at 2 PM on Saturday, June 6th
Calaveras High School graduation is Thursday June 11th.
Ted Bird High, Cassina High and Adult Education graduated last night in the Sonora High School gymnasium.
The "Newsmaker of the Day" is heard on AM 1450 KVML each weekday morning at 6:45, 7:45 and 8:45am.