Minimum Wage Hike Passes Senate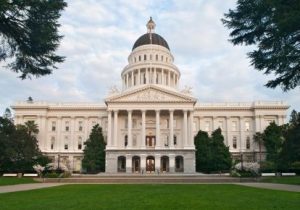 Sacramento Capitol Building

View Photos
Sacramento, CA — California Senators approved a bill that would increase the state's minimum wage to $13 an hour in 2017.
The proposal comes two years after Governor Jerry Brown signed legislation to increase the minimum wage to $9 this year, and $10 in 2016. The legislation was approved yesterday in the Senate on party lines, with Democrats mostly in favor and Republicans opposed.
Republican Senator John Moorlach spoke sharply against the increase, saying, "What kind of society are we running?  It's a capitalistic society.  And we need to honor work.  We need to honor the work of those that are creating the jobs; that are paying the taxes that allow us to subsidize the transportation and everything else. "
The California Chamber of Commerce is calling the bill a "job killer."
A proponent of the increase, Democratic Senator Mark Leno responded, "65 percent of Californians are living paycheck to paycheck, and eight million Californians earning the minimum wage are living below the federal poverty line. As a result, California has the highest rate of poverty in the entire nation. We must do more to address this."
The bill now moves onto the Assembly for consideration.