Improving View Of Economy: But Still Negative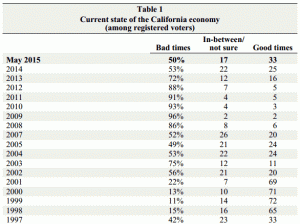 Field Poll - Economy

View Photos
Sacramento, CA — For the 13th consecutive year, a Field Poll found that California voters have more negative than positive to say about the state's economy.
50% of those surveyed feel that California's economy is going through "bad times," 33% say "good times" and 17% are unsure. 48% feel that their personal financial situation is better than a year ago, 27% are worse off, and 25% are unchanged. Looking ahead to the next 12 months, 37% feel economic conditions will improve, 19% believe things will get worse and 39% think it will remain the same.
Californians opinions about the economy hit rock bottom in 2009 when 96% of those polled had a negative view, 2% had positive feelings and 2% unsure.