Californians Like Brown: Mixed About State's Direction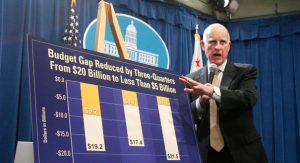 Jerry Brown Talks About His Budget Plan

View Photos
Sacramento, CA — California Governor Jerry Brown has a near record high approval rating, but only 40% feel the state is on the right path.
A new Field Poll finds that 58% of California voters approve of the Governor's job performance. During his second tenure as Governor, his approval rating dropped to as low as 43% in May of 2012 and peaked at 59% in April of 2014. 75% of Democrats currently approve of the job Brown is doing, 54% of "decline to state" voters approve, and 37% of Republicans.
The Field Poll tracked Governor Brown's approval rating during his previous tenure as well, and his rating dipped to 38% in April of 1980 and peaked at 69% in March of 1976.
However, it's not an entirely rosy picture. Only 40% of California voters feel the state is currently moving in the right direction, 40% think the state is on the wrong track, and 20% have no opinion. The Governor has been advocating for several contentious projects, such as the proposed twin water tunnels and high speed rail.
When it comes to the state legislature, only 37% approve of the job performance of the Assembly and Senate, 38% disapprove and 25% have no opinion.