One Arrested In Brutal Jamestown Stabbing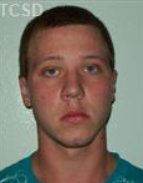 Mackenzie Steven Darr

View Photos
Jamestown, CA – Tuolumne County Sheriff's officials have arrested one person in connection with a stabbing in Jamestown and up to five more suspects are being sought.
The male victim was allegedly knifed in the back while at his home on Bench Drive, May 14 around 1:37 a.m., according to Tuolumne District Attorney Laura Krieg. "The victim had been jumped and stabbed repeatedly and assaulted," Krieg says.  After being flown to a Modesto hospital for treatment, he is listed in stable condition. She adds, "At this time his injuries are non-life threatening."
So far, Mackenzie Steven Darr, 20, has been arrested and others are expected to be involved in the vicious attack. Krieg states, "We believe that they contacted the victim and, shortly then after, arrived at his residence, unannounced and uninvited." Asked if the group had an ongoing argument with the victim, Krieg replied, "We don't have any information regarding that. We are still investigating motive and details into that."  She adds it does not appear that money or drugs played a role in the attack.
Darr is charged with several felonies, including assault with a deadly weapon, home invasion robbery, first-degree burglary and criminal conspiracy. The latter charges, Krieg says, involve a laptop and smart phone that were taken from the victim's home. The investigation is ongoing and Krieg confirms, "We believe there are six individuals, total, that were possibly involved…more arrests will be made."
Anyone with information involving the stabbing is asked to call the Tuolumne County Sheriff's Department at (209) 533-5815.