Tourism, Already Simmering, Looks Hot For Summer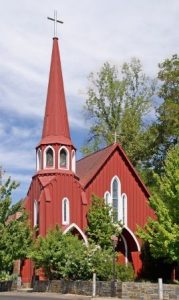 Sonora's historic landmark Red Church

View Photos
Sonora, CA — Good news for Mother Lode businesses. Local tourism, which has been on the rise, is expected to sizzle in the summer months, according to the visitors bureaus in Tuolumne and Calaveras counties.
Over the fickle-weathered winter months, Tuolumne County Visitors Bureau Executive Director Lisa Mayo says, campgrounds opened a bit earlier, which helped offset a lack of winter sports activities due to little snow and no snow-making abilities at most of the regional ski resorts. "Hiking was, and is, a huge thing that people ask us about, here at the visitor's center, along with any other type of trail activity at the State parks and Yosemite," she adds.
"I think that one of the benefits that we had, was that Bear Valley Mountain stayed open when some of the others had to close, states Calaveras County Visitor Center Executive Director Lisa Boulton. "So, we got the word out about that, as did they. And, on the other hand, the weather was so mild, it was attracting people for the all-weather activities, like golf, for instance." She adds, "We had — and get —  a lot of people, coming through Angels Camp… on their way to Yosemite. Where perhaps, they've  built a several-day itinerary with a couple of days in Calaveras."
Anticipating a 'Great' Summer
"If the past couple of months have been any indication, as far as numbers that we're getting in our visitors centers, we're really expecting a very, very busy summer," Mayo declares. "The feedback that we've been getting from several of our partners, is they are already booking up. That's not just the hotels, but the tours that go on — that people are booking now for the middle of summer, which is great to hear." With the kids shortly getting out of school, Mayo expects Columbia, Rail Town and local museums to be among Tuolumne County's major summer hits, along with camping, cabin rentals, Yosemite, and horseback riding experiences along highways 108 and 120.
"As far as travel spending in 2014, we did just get those numbers in," Mayo states, with obvious excitement in her voice. "It was $206 million…up 3.3% from the previous year. That's a great indicator that we're moving in the right direction. Summer is generally busier — and we do feel that it will be a really great summer for us." Along with increased promotions directed to the Bay Area and in Sacramento regions that have not been done in recent years, Mayo says it is looking good that the BBC will be coming to the area to do some filming in June, relating to gold panning.
Boulton states that in Calaveras County, all the tourism statistics are up, from the transient occupancy taxes (TOT), to web searches.  Ahead of the summer rush, the bureau will produce a State of the Lakes report for the region, investigating the levels of the lakes to keep tourists posted on opportunities available for water-related recreation. Among this summer's big Calaveras draws, in addition to wine tasting, Boulton gives a shout out to the increasing live music scene, rife with multiple concert series and events ranging from the Ironstone Vineyards amphitheater to the wineries and local restaurants, parks; including free events. Too, she states, Caves are always big, especially in the hot summer — they're nice and cool underground — and people love to go visit those and the Calaveras Big Trees State Park is always a big draw for us."
Tourism For Locals
Mayo encourages locals to take advantage of the Tuolumne County bureau's Pit Stop (Partners In Tourism) Program. "Our motto is, come road-tripping with us and refuel your knowledge of local tourism assets that you don't know or hear [of], know or hear but have never been, or…haven't been to in a long time," she explains. "We just did the last one at Rail Town, and it was really fun…a gal, who showed up, said she's lived…in Jamestown for 13 years, and had never been to Rail Town!" Mayo chuckles, going on: "I told her, you are the poster child for this program! That's the point of it, to get people out and excited about what we have." The next event, according to Mayo, will be June 17, at Twain Harte Mini Golf, which will feature local restaurants from 5:30 to 7:30 p.m. and free golf for the public.
Boulton agrees that in Calaveras County, locals often overlook recreation and tourist assets. Subsequently, her bureau hopes to entice residents to engage in "Frog Play," a program that offers discounts and incentives on local recreation, restaurants, wine tasting, and other activities. To participate, she says, local residents need merely to stop in at the visitors bureau and pick up their cards for use at participating local businesses.