Memorial Weekend In Yosemite National Park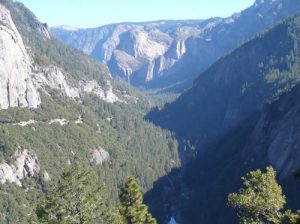 Yosemite National Park

View Photos
Yosemite National Park is preparing for a large number of visitors this Memorial Day weekend.
Park Spokesperson Scott Gediman was Friday's KVML "Newsmaker of the Day".
"It's going to a very busy weekend here," said Gediman. "Holiday weekends are always busy here and if last weekend's visitor numbers were any indication, we are going to be very busy."
Highway 120 Tioga Road was closed yesterday due to snow. It remains closed this morning.
Officials will monitor conditions to determine when to re-open the mountain pass.
"Once Tioga Pass does re-open, The Tuolumne Lodge, the grocery store and the grill will all be open and operating for business.  However, the gas station will not be open until Monday, Memorial Day." said Gediman.
The upper campgrounds along Tioga Road (near Tuolumne Meadows and other locations) are not yet open.
Despite the dismal amount of snowfall over the winter months, Gediman says that there have been numerous mountain rain storms over the past few weeks and the famous waterfalls are flowing very strong.
When driving in Yosemite, be aware of bear, mule deer and tourists who may all unexpectedly dart onto the roadways.
The entrance fee into the Park has increased since last year. The standard entrance fee per vehicle is now $30. Drivers will be supplied with a receipt good for seven straight days to drive in and out of the Park. Last Memorial Day weekend the cost was $20 per vehicle.
The "Newsmaker of the Day" is heard every weekday morning on AM 1450 KVML at 6:45, 7:45 and 8:45 AM.