Jamestown Rocca Park's Summer Music Series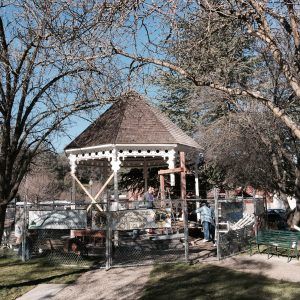 Jamestown's Rocca Park Gazebo

View Photos
Add another music series to the plethora of choices in summer music concerts found throughout the Mother Lode.
The Jamestown Rocca Park Summer Music Series co-founders Tina Shackley and Gracey Carder were Wednesday's KVML "Newsmakers of the Day".
The series made its debut this last Saturday afternoon and will continue again this Saturday from 4 – 8 PM. After that the music series will continue every third Saturday of each month through September 19th, with a bonus of the Saturday of Labor Day weekend.
So far the lineup includes JonEmery & Merle Jagger this Saturday, Rockslide on June 20th, Swing Gitane on July 18th, The Brothers Strong on August 15th and other musical acts on both September 5th and 19th.
Why a music series in Jamestown?
"We are starting this because Jamestown doesn't really have any regular events during the Summer and we are the gateway to Tuolumne County, " said Carder. "This is a relaxing way for the downtown merchants, residents and visitors alike to spend their Saturday afternoons and evenings."
According to Shackley, "Vendors will be there for each one of the concerts, selling food, drink, wine and beer. There is also room for other vendors and artists. The series is both family friendly and dog friendly and we invite the public to bring blankets and chairs."
Both Shackley and Carder said that the newly refurbished gazebo in Rocca Park was built as a bandstand, so this series will fulfill its intended use.
The Jamestown Summer Music Series is sponsored by downtown Jamestown merchants including Simply Gorgeous, The Gypsy Shack, Pierces Antiques, Yosemite Fudge Lady, Vicki's Bead Shop, Pepper Creek Botanicals, Stogies Gold Country Lounge and Inner Sanctum Cellars.
If you are interested in being a vendor or you would like more information call (209) 984-4445.