Pact To Reduce Carbon Emissions Signed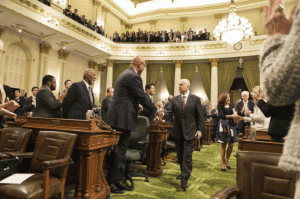 Jerry Brown Arrives For Inaugural Address

View Photos
Sacramento, CA — Governor Jerry Brown, with international leaders from 11 other states and provinces, signed a Global Climate Change Agreement today. Gov. Brown told reporters at the State Capitol, "regional leaders want to create pressure from below to force their national governments to do more on climate change."
Gov. Brown was one of 12 founding signatories to the agreement span seven countries and include: Acre, Brazil; Baden-Württemberg, Germany; Baja California, Mexico; Catalonia, Spain; Jalisco, Mexico; Ontario and British Columbia, Canada; Wales, UK; and in the U.S.: Oregon, Vermont, and Washington. Those that signed collectively represent more than $4.5 trillion in GDP and 100 million people.
The non-binding agreement pledges to reduce greenhouse gas emissions 80 to 95 percent below 1990 levels by 2050 or achieve a per capita annual emission target of less than 2 metric tons by 2050. California has already adopted a more aggressive timeline. Issued by an executive order the state is to reduce greenhouse gas emissions by 40 percent, compared to 1990 levels, by 2030.
The Global Climate Change Agreement goals are:
• Developing mid-term targets needed to support long-term reduction goals;
• Sharing technology, scientific research and best practices to promote energy efficiency and renewable energy;
• Collaborating to expand the use of zero-emission vehicles;
• Taking steps to ensure consistent monitoring and reporting of greenhouse gas emissions;
• Improving air quality by reducing short-lived climate pollutants such as black carbon and methane; and
• Assessing the projected impacts of climate change on communities.
The agreement's signatories have also committed to recruiting additional global partners ahead of the United Nations Climate Change Conference in Paris this December. To that end, California Air Resources Board Chair Mary Nichols hosted a reception with European partners today at the Business and Climate Summit in Paris organized by the French chapters of the United Nations Global Compact. The full text of the Agreement is here.