Torch Run Through Sonora Gets Green Light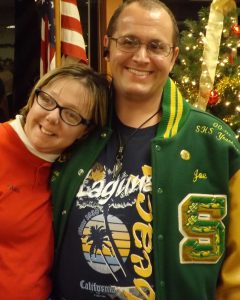 Special Olympian Joe Delgado and girlfriend Staci Sherbert, at Special Olympics Holiday Party, Dec. 2014

View Photos
Sonora, CA —  As a send-off before ahead of the Summer and World Games, the Mother Lode will honor its Special Olympians at torch run through downtown Sonora.
The run, scheduled for Saturday, June 20, and sponsored by the Sonora-area California Highway Patrol (CHP), received the Sonora City Council's unanimous approval at its Monday night meeting. The council gave the nod to allow a rolling closure of Washington Street and Stockton Road from 10 a.m. until noon, so that the athletes may run the torch from the historic Red Church to the fairgrounds. Ahead of time, they will be collecting pledges to raise funds.
Although Special Olympians across California are honored with torch runs each year, it is the first time such an event has been planned for local athletes. According to Coach Dave DeCheney, area director of Tuolumne County Special Olympics, "Officer Nick Norton from CHP and myself, we were talking…last year, we tried to organize it, and we weren't successful as far as getting it done last year, so we've been planning it since last year." As Calaveras County does not have its own Special Olympics program, about a half dozen athletes who live there come to Tuolumne County to participate, according to DeCheney.
DeCheney encourages the public to come out and cheer the athletes along the route as well as at the Mother Lode Fairgrounds, where a public support event will follow. "We're going to have some activities after we get there…we just got the approval last night, so I'm still trying to put things together…I'd like to have a barbecue…and some awards," he shares.
The Special Olympics Northern California Summer Games will run June 26-28 at University of California-Davis, with ten to a dozen still to be named athletes from Tuolumne and Calaveras counties participating in track, aquatics and bocce ball events. Sonoran Joe Delgado, 32, who won a gold medal in aquatics at last year's Summer Games will additionally join some 7,000 other athletes from 177 countries in Los Angeles to compete in the Special Olympics World Summer Games July 25-Aug. 2. DeCheney says it will mark the first time a Mother Lode athlete has competed in the World Games.