Community Health Walk Afoot In San Andreas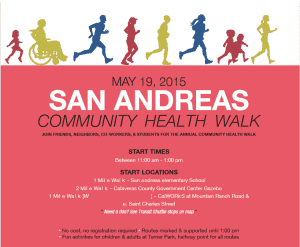 San Andreas Community Health Walk 2015 Flyer

View Photos
San Andreas, CA — While folks are afoot tomorrow for San Andreas' Community Health Walk, motorists passing through the county seat during the midday are advised to be on alert.
Sponsored by Calaveras Public Health Services, Health and Human Services Agency, and the Calaveras Council of Governments, Tuesday's event will involve increased vehicular as well as foot traffic at several San Andreas locations; among them, the Government Center, San Andreas Elementary, and the CalWORKS building.
Now in its fourth year, according to Health Services spokesperson Jolene DePaoli, the Community Health Walk hopes to draw over 500 participants; among them will be some 300 schoolchildren from San Andreas Elementary School and 50 volunteers from Calavaras High School Police Science classes.
"We've definitely reached out to companies and businesses and government to join us on this Health Walk," states Jaime Castillo, speaking for the Calaveras Citizen Corps Council (CCCC). "So…you might see people with high-reflective visibility vests and Stop/Slow paddles. There will be no road closures. We ask people to be cognizant of the extra vehicular traffic and pedestrian traffic."
Marked one-mile walks will run from the elementary school and CalWORKS, the latter of which will be wheelchair accessible; a two-mile walk will start from government center.
At Turner Park, along with various health agency and information booths, planned activities involving Frisbees, hula hoops, Zumba and chair exercises for wheelchair-bound and elderly are slated. The event, which goes from 11 a.m. until 1 p.m., is free and open to the public, no registration required.
Along with supporting the creation of a healthier community, organizers say they are hoping to stress the infrastructure that is needed – such as sidewalks for walking and biking – to create safe areas for community members to enjoy. As Castillo and DePaoli both point out, plenty of traffic assistance is being tapped to ensure a safe walk. The California Highway Patrol-San Andreas Unit will be on hand to support traffic management being provided by CCCC, including Calaveras Emergency Response Team (CERT) and Calaveras Animal Disaster Services (CADS).