Kitchell And "I Don't Know" Win Frog Jump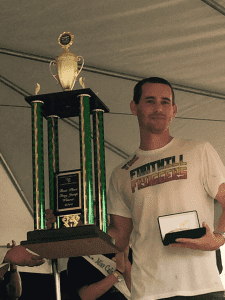 Calaveras-Fair-2015-Riley-Kitchell-Frog-Jump-Winner
Angels Camp, CA — An Angels Camp local with a previous win again claimed top honors in the annual International Frog Jump finals at the Calaveras County Fair.
Frog Jockey Riley Kitchell, 29, who also won the event in 2013, coaxed an 18-foot, eight-and-a-half inch jump from his frog, nicknamed "I Don't Know" at the Sunday event. Although Frogmeister Dave Gallagher earlier shared cautious optimism that this could be the year for a new record leap, due to favorable weather and feisty frogs, the benchmark world record, achieved back in 1986 by Lee Giudici and his frog "Rosie the Ribiter" of 21 feet, five-and-three-quarters inches held firm.
Since the Frog Jump was initiated in 1928, it has been held every year except during the Great Depression year of 1933. This year marks 150 years since the publication of the famous Mark Twain tale, "The Celebrated Jumping Frog of Calaveras County," which inspired the competition.
Click in the box (located at the upper left of this post) for photos and Frog Spa video.