Update: New Details On Jamestown Crash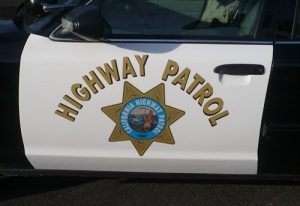 CHP Patrol Car Logo

View Photos
Update 5 p.m.:  The CHP has released further details regarding the three-vehicle crash on Highway 108/49 in Jamestown.  The accident happened around 2:30 p.m. at the Victoria Way intersection.  The CHP reports a white male driver of a motorcycle  stopped in the  northbound lane of the highway, waiting to make a left turn onto Victoria Way.  "He did so, into an oncoming sedan driven by a female," explains Sgt. Shawn Snyder. "The female in the sedan hit the motorcycle — that caused the motorcycle to be deflected into a third vehicle, which was on Victoria Way. "  Sgt. Snyder says neither drugs nor alcohol played a role in the crash.
Update 3:50 p.m.:  The CHP now reports three vehicles were involved in the crash, one being a motorcycle. All four lanes of Highway 108 have reopened. Two lanes had been blocked by wreckage, and officers were directing traffic around it for more than an hour.
Update 3:30 p.m.: The CHP reports three lanes are open now but tow crews continue to remove debris from one lane.
Update 3:20 p.m.:  The CHP reports two women, ages 33 and 44, who were traveling in the vehicle, were also injured and complaining of chest pains.  They have been taken by ground ambulance to Sonora Regional Medical Center. The westbound lane of the highway remains blocked by wreckage and officers are directing two-way controlled traffic.
Update 3 p.m.: The CHP reports the air-ambulance has landed and traffic is still backed up.
Original post 2:41 p.m.: Jamestown, CA — Emergency crews are on the scene of a vehicle versus motorcycle crash on Highway 108 and Victoria Way, in front of the C & C Mini Mart in Jamestown.
The CHP reports the westbound lane of the highway is blocked by wreckage. As officers are directing with two-way traffic control, the roadway is getting backed up. There are major injuries in the crash. The CHP reports the driver of the motorcycle has severe injuries to his right leg. An air-ambulance has been called to the scene. Additionally, one other person has been injured but there is no word on the extent of that person's injury.  A ground ambulance is also on scene.
Exact details on what caused the crash are not clear at this time. We will bring you further information as soon as it comes into the News Center.