Pinecrest Lake "Fills And Spills"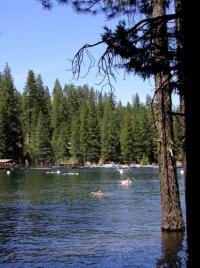 Pinecrest

View Photos
Pinecrest, CA – Due to last week's spring snowfall, Pinecrest Lake has reached capacity.
As reported previously, PG&E had estimated that Pinecrest would only reach 75% capacity due to the ongoing drought. T.U.D. Spokesperson Lisa Westbrook says, "The last storms that came through the region  helped immensely, and there were over 10 inches of snow received in that area, which is now melting into Pinecrest Lake. We're thrilled about the turn of events, and it definitely increases our water supply for the area."
Pinecrest Lake holds 18,360 acre ft. of water.
Westbrook says the news regarding Pinecrest does not impact any of T.U.D.'s conservation measures currently in place. Customers are required to cut usage by 30% compared to 2013. It is not immediately clear if this matter will be readdressed at a future meeting. Due to state mandates, the lowest that T.U.D. could drop the conservation rate to is 25%.
Meanwhile, PG&E reports that Lyons Reservoir is only at 4,800 acre ft. of its 5,300 acre ft. capacity.