Heads Up: Road Delays Through Jamestown And More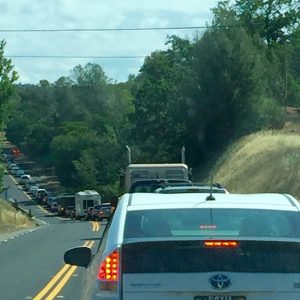 Eastbound Highway 108/49 back up from Bell Mooney Rd., May 11, 2015

View Photos
Stockton, CA — Caltrans crews working on Highway 108/49 in Jamestown are causing notable delays, up to 20 minutes at times, as they attend to grinding and paving chores.
In the 10 a.m. hour, one-way traffic controls for the work zone between Rawhide and Wigwam roads had eastbound traffic backed up from Bell Mooney Road; westbound drivers were on idle almost as far back as Golf Links Road. The work is expected to continue Tuesday and Wednesday, setting up each day at 8 a.m. and running until 2 p.m.
Overnight on Highway 108 all week, miscellaneous project work is scheduled along Mono Way from 9 p.m. until 6 a.m. with one-way traffic control and possible ten-minute delays. Also, today through Thursday, construction along the shoulders between Sullivan Creek and Peaceful Oak roads is slated from 7 a.m. until midnight; Friday, they plan to work from 7 p.m. until 5:30 a.m. Saturday. Motorists should anticipate potential ten-minute motorist delays.
Today only, in Calaveras County on Highway 49, utility workers between just south of Gold Strike Road to Spring Hills Road are on the job until 5 p.m. with one-way traffic control any possible minor delays to motorists.