Roping, Riding and Smiling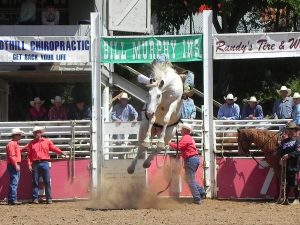 2015 Mother Lode Round-up Rodeo
Sonora, CA — Cowboys, Cowgirls, broncos, bulls and the screaming fans.
There was plenty of excitement at the Mother Lode Fairgrounds as the Rodeo kicked off yesterday. The stands were full and ready to see some fast roping and riding…and the first day did not disappoint. There was also fun for the little buckaroos who paraded their style and skill in the 'Mutton Busting'.
To view the rodeo's opening ceremony video and some pictures look to the upper left hand box. The rodeo continues today with more bull riding, bucking broncos, calf roping and fun for the whole family. For the complete list of Round-up activities for Sunday click here.
In addition, view pictures of all the festivities that took place in downtown Sonora yesterday as the 58th annual Mother Lode Round-up Parade entertained a huge crowd lining Washington Street and stretching to get a view of the floats, horses, cars and bands marching.