Round-Up Week Activities Continue Through Sunday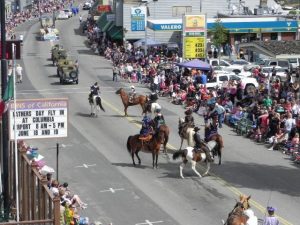 Roundup Parade

View Photos
Round-Up Week is here and events will continue through the weekend.
Ty Wivell, Tuolumne County Sheriff Posse Member, was Thursday's KVML "Newsmaker of the Day".
This 2015 Mother's Day weekend marks the 58th anniversary of the Mother Lode Round-up and the 67th anniversary of the Tuolumne County Sheriff's Posse, founded in 1948, who started presenting the Mother Lode Round-Up in 1958.
The rodeo and parade was established as a rewarding partnership between the Tuolumne County business community and the Posse and continues to be based on that partnership today.
Because of the support of the local business community, local government and law enforcement entities, the Round-Up continues to be one of the finest spring rodeos and celebrations in California.
Every year over 350 of pro rodeo's finest cowboys and cowgirls are attracted to this rodeo which is part of the PRCA Heartland Rodeo Series which celebrates small town rodeos throughout America.
Saturday's parade is recognized as one of the largest parades for entries in California. Thousands of visitors are drawn every year to the Round-Up weekend.
The Mother Lode Round-Up is a traditional western family, and hometown reunion that celebrates and pays tribute to the regional agricultural heritage and the Possemen in our past that kept this special event alive.
This event is a generational celebration of memories.
Events this week include:
Tonight 6:00 PM. The Calcutta. Bring your money. This is a team auction at the Sheriff's Posse Grounds on Rawhide, Road in Jamestown. There will be appetizers and a no host bar. The admission is free.
Saturday, May 9 Parade 10:00 AM Downtown Sonora
Rodeo 2:00 PM Mother Lode Fairgrounds
Sunday May 10 Wrangler Family Day All Day Mother Lode Fairgrounds
Mothers Day Breakfast 8 AM – 12 noon Mother Lode Fairgrounds
Cowboy Church with Coy Huffman 10:00 AM Grandstands Mother Lode Fairgrounds
Rodeo 12:30 PM Kiddie Rodeo
2:00 PM Rodeo Mother Lode Fairgrounds
Big Joe and Bridgette of KKBN 93.5 FM will announce the parade from their elevated position, near the Radiator Doctor. Mark and Maryann of Star 92.7 FM will announce the parade by the VFW Hall (across from Courthouse Park). Mark Truppner of KVML radio will announce the parade on Saturday morning at Washington and Gold Streets.
The "Newsmaker of the Day" is heard each weekday morning on AM 1450 KVML at 6:47, 7:47 and 8:47am.