Water Council Identifies Supply Solutions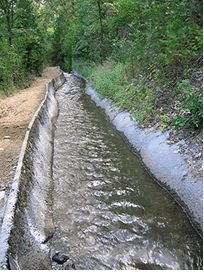 T.U.D. Ditch System

View Photos
Sonora, CA — A Community Water Council in Tuolumne County continues to look at both short and long-term solutions related to water supply.
As reported previously, the independent advisory group was formed thanks to grant funding from the Pepperdine University School of Public Policy and the Davenport Institute. T.U.D. General Manager Tom Scesa says the group prioritized long-term water solutions at its most recent meeting. He says the top priorities fell under the mantra, "making the best use of what we've got."
Scesa says, "The number one thing that this group thought was important was to improve the efficiency of the ditches. It was a toss up about what should be number two…either improving the efficiency of all the piped systems that we have,  or securing a better distribution system for the main canal. It's because the main canal has a lot of wooden flumes, it's in a canyon, and if it were to burn up we'd be in a very serious emergency situation trying to get water back to our community."
Continuing down priority list was a water storage project T.U.D. has long planned in Twain Harte, and making improvements to Phoenix Lake.
As part of the public input process, there will be future community meetings to discuss the council's findings. Other solutions mentioned in the discussion included expanding Lyons Reservoir, cloud seeding, pursuing supply from the Middle Fork of the Stanislaus River, etc.
Participating agencies involved with the Community Water Council include T.U.D., County of Tuolumne, the Tuolumne County Business Council, Tuolumne County Chamber of Commerce, Tuolumne County Farm Bureau, Twain Harte Community Services District and the UCCE Master Gardeners of Tuolumne County.
For more information on the group, click here.