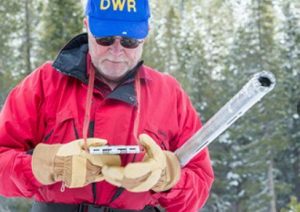 DWR Manual Snowpack Reading

View Photos
Sacramento, CA – Green grass rather than white snow in the mountains has forced state water officials to call off Friday's May manual snowpack reading.
Department of Water Resources (DWR) spokesperson Doug Carlson says, "We're not really sure whether we have ever called off the snow survey in the past."
Despite last week's storm that left snow on the ground at Phillips Station in El Dorado County, Carlson says that has already melted away. "There is nothing up there and this is just really a bad year and everybody should take heed, the Governor's order to cut back."
Electronic readings on Friday showed that the statewide snowpack water content is one-half an inch or 3 percent of the 16.6 inches normally in the snow survey on this date.  The snowpack makes up 30 percent of California's water supply. April's manual snow survey reading set a record with virtually no snow on the ground at Phillips Station with an electronic reading of just 5 percent of normal.