"Motor Voter Act" Passes Committee Test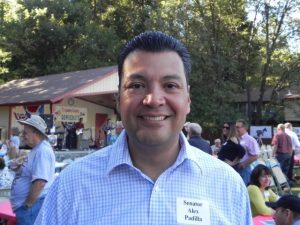 Alex Padilla In Twain Harte

View Photos
Sacramento, CA — California is moving closer to automatically registering residents to vote when getting a driver's license.
The proposal is being pushed by California's top elections official, Secretary of State Alex Padilla. It cleared its first hurdle yesterday as it was approved in the Assembly Transportation Committee. Padilla told members that over 40,000 people went to the Secretary of State's website for information on registering to vote, after the deadline passed leading up to last November's election. He added, "There are nearly 6.6 million eligible but unregistered California citizens."
The proposed law  is modeled after legislation that recently went into effect in Oregon. Those that receive a license would be notified that they have 21 days to object, or they would automatically be registered to vote.