Summerville's Two New Hires Are Former Employees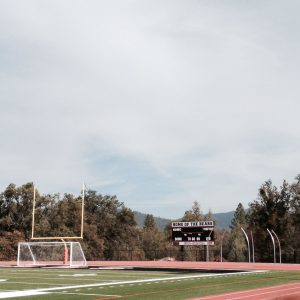 Summerville Thorsted Field and Scoreboard

View Photos
Tuolumne City, CA – Two familiar faces became the two latest hires at last night's Summerville Union High School District Board meeting.
In closed session, Superintendent Robert Griffith presented two candidates for consideration to fill the currently open slots for head football coach and chief business officer. The board subsequently approved both: Sean Leveroos, to lead the varsity Bears football team; and Jessica Lozoya, to serve as the school district's new CBO. As reported earlier, Griffith expects the new football coach to get to work right away while the CBO start date is expected to be July 1.
A 1995 graduate of Summerville High, Leveroos, 37, worked in the Summerville athletic program as a defensive coordinator from 2006-2013 before signing on to coach football at Riverbank High.
Lozoya also shares past ties with the school district office, having worked as its executive secretary from 2011-2014. This past year, she was Curtis Creek School District's director of business services. Tonya Midget, who she is replacing, served in the position for 13 years. During Midget's tenure, the job duties expanded significantly, to include fiscal and budget oversight of Summerville Union High School, Gold Rush Charter School, Connections Visual and Performing Arts Academy and Twain Harte School District. Midget's role has been amended and she will now exclusively oversee business at Twain Harte School District.
In other business, the board considered the next school year's budget and planning for a new, locally bid website.