Bark Beetles A Growing Concern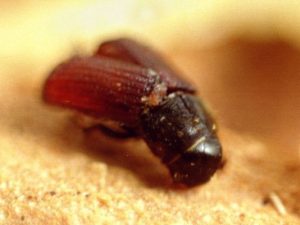 Bark Beetle

View Photos
Sonora, CA — With California in its fourth year of drought, CAL Fire is seeing an increase in tree mortality due to beetle infestations.
CAL Fire Unit Forester Adam Freese briefed the Tuolumne County Supervisors this week. He noted that most of the mortality is in Ponderosa Pine, at the lower elevations.
Freese said, "The mortality we're seeing from the bark beetles is really a symptom, not so much the problem. The problem is the drought, and also that the ground is carrying a lot more vegetation than its meant for. The trees are stressed out, they're competing, and they are more susceptible to attack."
CAL Fire recently completed an overhead flight of the region.
Freese added, "As a whole, between Tuolumne and Calaveras Counties, we saw about 5-7% mortality pretty consistently, up to 30% in isolated areas, especially in the south county area around Groveland, which is getting hit the hardest."
The Supervisors expressed support for helping to find a solution to this increasing problem.