Calaveras Relay for Life This Weekend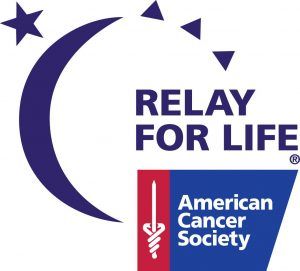 American Cancer Society, Relay For Life logo

View Photos
San Andreas, CA — This weekend's Relay for Life in Calaveras County promises a full schedule with the dual focus of honoring cancer survivors and raising funds for cancer research and patient support services.
The two-day event, scheduled Saturday and Sunday, April 25-26 at Calaveras High School (350 High School St., San Andreas), leads off with a Survivors' Lap at 9 a.m., Saturday morning with a free light breakfast for survivors and a free lunch for survivors at noon. Event goers can enjoy several carnival theme game and food booths.
So far, according to event lead Patti Poole, 14 teams and 140 participants are signed up and over $17,000 has been raised. Registration for the walk relay will remain available Saturday morning, she says. "Just sign up at the gate!" Throughout the weekend, the public is invited to come out to cheer on event participants. During Saturday evening's Luminaria Ceremony, the track at the high school will be filled with lights celebrating those whose lives have been taken by cancer. For those interested in placing a light in memory of a loved one the suggested donation is $10; for other ways to support the event, click here.
According to organizers, volunteers are still needed to help with the luminaria set-up, tear down and decorating. Arnold Lions, Mark Twain Medical Center, Insight Manufacturing, Wells Fargo, and the San Andreas, Mokelumne Hill and Murphys-Angels Lions groups are among the participating sponsors.
It was back in May 1985 that event founder, Dr. Gordy Klatt, walked and ran for 24 hours around a track in Tacoma, Washington in a solo effort that raised some $27,000 for the American Cancer Society. While last year, at the age of 71, Klatt passed away due to heart failure after battling stomach cancer, the event spawned from his efforts has grown into a worldwide movement that, to date, has raised nearly $5 billion for cancer research and patient support programs.
Below is this year's Calaveras County Relay For Life Event Schedule:
Saturday, April 25th
9 a.m. – Opening Ceremonies
10 a.m. – "Super Hero" Laps (Dress as your favorite Super Hero)
11 a.m. –Zumba with Mountain Zumba Gold; Relay at Relay Laps
12 p.m. – Survivor Lunch; "Backwards" Laps (Wear clothes backwards or walk backwards)
1 p.m. –Bingo in Survivor Tent; Box Car Races ( Show off your Box Cars)
2 p.m. – Zumba by Power UP; "Clown" Laps (Wear clown clothes)
3 p.m. – "Crazy Hat" Laps (Make and wear your creation)
4 p.m. – Boas and Bow-ties; Miss Relay Pageant (Men/boys dress as a Miss Relay. Man/boy with most money collected wins)
4:30 p.m. — HOPE Club Lap
5 p.m. – "Western/Cowboy" Lap; Bobby's Brigade Dinner
6 p.m. — TV Theme Sing-along
6:30  p.m. — "Fight Back" Lap; "Dance" Lap Get up and Get Active! (Be ready for the Macarena, YMCA, Chicken Dance and more)
7 p.m. – Love Song Dedications; "3-legged" Laps
8 p.m. –"Hawaiian" Laps; Cody Ebert, magician
9 p.m. – Luminaria Ceremony
10 p.m. – Sandy Rogers and Friends Music
11 p.m. – Musical Chairs; "Slippers" Laps
Sunday, April 26th
12 p.m. – Pajama Fashion Show & Midnight Pizza
1 p.m. – "Patriotic" Laps
2 p.m. – Movie; "Night Light" Laps (Carry a light of some sort)
3 p.m. — "Thrift Shop" Lap (Model your craziest thrift shop outfit)
4 p.m. – Trash Fashion Show; Flashlight Tag
5 p.m. – "Morning Hair" Laps
6 p.m. – Rooster Crowing Contest
7 p.m. – "A Future Without Cancer Is So Bright — Sunglasses" Lap; Paper Clip Chain-off
8:30 p.m. – Closing Ceremonies
For more details, click here.
The Tuolumne County Relay for Life is scheduled for May 2 at Sonora Elementary School.  Click here for details.