New Football Coach, Business Official For Summerville?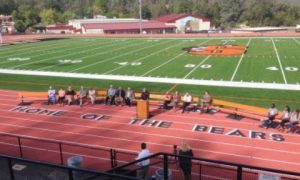 Summerville Stadium Opening

View Photos
Tuolumne City, CA — Summerville Union High School District may be close to hiring a new football coach and a new business head this week.
So says Superintendent Robert Griffith, who indicates that a candidate for each position will be brought before the board during its 5:30 p.m. closed session. "I don't want to talk about them, specifically by name, but we do have two recommendations that we are very excited about that the board will be considering for approval tomorrow night," Griffith confides.
Griffith states that a new hire in short order for the non-teaching football coaching slot would come just in time for team's spring training. Long-time Bears football coach Ben Watson, as previously reported, stepped down at the end of last season. Still on staff, he recently added coaching the golf team to his current basketball coaching responsibilities.
Griffith says he and the board are looking at a July 1st transition to get a new chief business official in place. Tonya Midget recently announced her resignation. In other closed session personnel-related business, the school board plans to conduct Superintendent Griffith's annual performance evaluation.
Tomorrow, the school board also expects to address its financial options for the next school year. "We are at that point…that we are looking to build our budget…so we are evaluating programs and staffing levels and looking where we might make some adjustments," Griffith explains. "It's kind of an annual process that we do every April."
Following the closed session, the meeting will open to the public at 6:30 p.m. Meetings are held at in the library at Summerville High School (17555 Tuolumne Road).