Drought Boosts Interest In Native Plants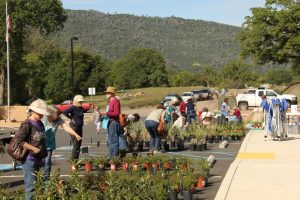 Native Plant Sale

View Photos
San Andreas, CA — Over 100 people came out for a native plant sale hosted by the Calaveras County Water District.
The Sierra Foothills Chapter of the California Native Plant Society organized the sale of grasses, shrubs, and trees that thrive in the Sierra Nevada, and are resistant to drought. CNPS member Judy Dean stated, "The plant sale was very successful, and I was thrilled to see so many people."
Native plants typically require little care and minimal watering, if any.
CCWD reports that the majority of the plants at last week's event were sold, and what remained was purchased by the district to complete a native plant demonstration garden around CCWD's San Andreas headquarters.
Other groups that had booths at the sale included the Army Corps. Of Engineers, Calaveras Master Gardeners, Audubon Society, and others.