Serving Those Who Provide Community Services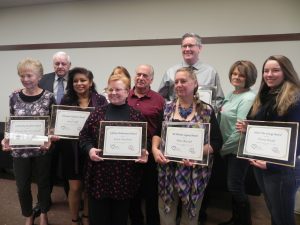 2014 Volunteer Winners

View Photos
Sierra Nonprofit Services is a non-government organization that exists to help educate, empower and supply resources and tools to both individuals who volunteer their time and organizations or groups that serve and give back to our local community.
Donna Wilson, Executive Director for Sierra Nonprofit Services was Friday's KVML "Newsmaker of the Day".
According to Wilson, the group is driven to see local non-profit organizations succeed and will show organizations everything from how to form a 501c3 to supplying the proven tools for funding, marketing strength and staff training.
One of the services offered is to match individuals that want to volunteer with organizations where they would likely fit best.
Wilson emphasizes that is important to recognize those who selflessly give their time. They are considered to be the  quiet heroes of our community. Without them, important things would not get done … like raising funds, building needed projects, distributing food and comforting those who are facing an emotional crisis.
These outstanding volunteers will be honored at The 14th Annual Tuolumne County Volunteer Awards Ceremony today at the Sonora Elks Lodge.
This year's event called "Volunteers, The Heart of Tuolumne County" will honor the heart, work and love of those who generously give their time, skills and heart back to the Community.
Last minute walk-up tickets are still available to attend this luncheon from noon – 1:30 pm today and are $20 each. Call (209) 533-1093 for more information or log onto http://sierranonprofit.org
The "Newsmaker of the Day" is heard every weekday morning on AM 1450 KVML at 6:45, 7:45 and 8:45am.