Road Reconstruction Projects Bring Traffic Delays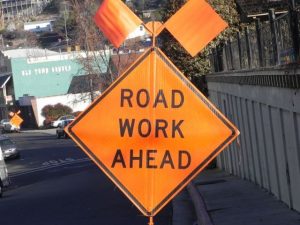 Road Work Ahead

View Photos
Columbia, CA – Two road projects in Columbia could slow traffic for the next couple of months.
Tuolumne County Supervisors have approved the "Yankee Hill Road/Jackson Street Reconstruction Project" and the "Parrotts Ferry Road Reconstruction Project" to be done in the 2015 construction year.  Before the contracted work can get started, county works will need to do some of their own maintenance, which include dig outs, culvert work and grading shoulders along these areas. Crews will work daily on both projects.
The Yankee/Jackson project begins Monday, April 13 and runs through Thursday, April 30.  Motorists should slow down and watch for crews conducting maintenance work on Yankee Hill Road/Jackson Street, from Parrotts Ferry Road to Raney Road.  Maintenance work on the Parrotts Ferry project starts Friday, May 1, and ends Friday, May 29, from Marble Quarry Road to Jackson Street.
County officials say there will be traffic delays, but crews will try to make them as short as possible.