Business Activity Picks Up In Mother Lode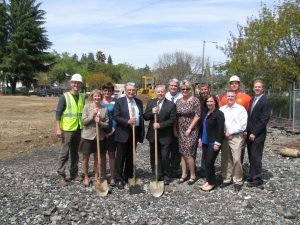 Oak Valley Bank, Restano Way Branch Groundbreaking

View Photos
Sonora, CA – Some of the spring business activity includes the construction of a new bank branch, and the opening of a substance abuse treatment center at a former Mother Lode resort.
Oak Valley Community Bank officials took advantage of yesterday's sunny warmth to break ground on the shovel-ready Restano Way lot where construction on their 16th branch is now underway. President and CEO Chris Courtney, who joined staff for the ceremony, says plans are for the Oakdale-headquartered regional bank's latest location to be complete and ready to open by sometime in December. Once in operation, the new branch will become the bank's second Mother Lode location, joining its Sonora sister branch, located at 14580 Mono Way.
Meanwhile, in Calaveras County, after working quietly over the past few years to re-purpose the landmark Lake Tulloch Resort to a 76-bed substance abuse treatment center, The Lakes Treatment Center is now open for business. After taking in its first patient in early March, there are currently seven in full-time treatment, according to owner Bernadette Cattaneo. Located on O'Byrnes Ferry Road near the Lake Tulloch Bridge, the center is part of the former Lake Tulloch Hotel & Marina, where there are now posted "For Sale" signs for the adjacent marina property.
In other local Copperopolis openings, a new 8,320 square-foot Family Dollar store is now open, also on O'Byrnes Ferry Road, next to the IGA Shopping Center.
Construction of the Sonora Regional Medical Center Outpatient Pavilion, anchored by the Cancer Center, is expected to begin in the coming months. It will be situated at the former Andy's site.
According to Tuolumne County Economic Development Director Larry Cope, the Radio Shack at Sonora Crossroads will be closing after all. According to Cope, Sprint Corporation had arranged a deal to take on a number of store locations but would not be interested in a Mother Lode location as it has no local market presence.
Recent restaurant openings around Sonora include Coyote Junction Bar & Grille, at 13791 Mono Way, featuring "homey healthy" fare with fresh ingredients. Sonora Thai Cuisine, on South Washington Street recently added another location in the former Homeplace spot at 1210 Sanguinetti Road. Corner Space Cakes has moved operations to 4 South Stewart Street with hours by appointment.
Some additional announcements could be coming soon. Cope adds that his office is in serious discussions with potential vendors interested in a number of the county's notable vacant spaces in East Sonora. Among these, are the former McDonald's, Hallmark Store and remaining space in the Blockbuster building, adjacent to Panda Express. In downtown Sonora, a restaurant operator is interested in opening at the former El Tequila Burrito Express on South Washington Street, near The Office. In Twain Harte, another restaurateur is looking into the former Villa D'Oro location at 23036 Joaquin Gulley Road.