The Latest On The Drought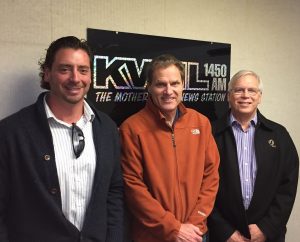 Rob Kostlivy, Darrell Slocum and Tom Scesa

View Photos
Sonora, CA — The ongoing drought is having several impacts on the Mother Lode region.
This weekend's Mother Lode Views will feature the latest update on Pinecrest Lake and Lyons Reservoir. PG&E recently projected that both reservoirs will not fill to capacity this year, which will impact water supply in Tuolumne County. At the state level, there are also efforts underway to allow Pinecrest Lake to drop to a lower elevation prior to Labor Day, than presently allowed. All of this will be discussed in detail, in addition to summer water restrictions, how to know if your water well is going dry, and ways ATCAA can provide help to those impacted by well failures.
The guests will include T.U.D. General Manager Tom Scesa, Tuolumne County Environmental Health Officer Rob Kostlivy, and Darrell Slocum with ATCAA.
The drought will be an ongoing story over the next several months, and there are numerous agencies impacted in a variety of ways. Clarke Broadcasting will be dedicating one Mother Lode Views show a month, through the spring and summer, focused on water and the drought.