Recognition And New Support For Crime Victims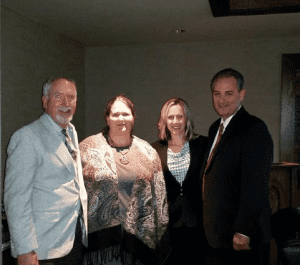 Announcing a new resource that will allow local victims of sexual assault will be able to receive forensic exams are Tuolumne Me-Wuk Indian Health Center Director Frank Kearns and Nurse Practitioner Anna Wells; Tuolumne County District Attorney Laura Krieg and Tuolumne County Sheriff Jim Mele.

View Photos
Sonora, CA –A groundbreaking agreement has enabled a new resource to provide both clinical space and trained staff for forensic sexual assault victims' exams.
The Tuolumne County District Attorney's Office and Me-Wuk Indian Health Center signed an agreement Tuesday under which the Tuolumne Me-Wuk Indian Health Center will provide the space and services. The collaboration, the only current agreement between two such organizations, comes as a direct result of a federal grant obtained through extensive efforts by health center nurse practitioner Anna Wells. The subsequent funds were applied to purchase necessary equipment and provide guidance for the county Sexual Assault Response Team (SART), which includes members from the DA's and Sheriff's offices, Sonora Police Department, Tuolumne Me-Wuk Indian Health Center, Sonora Regional Medical Center, Child Welfare Services, the Center for a Non-violent Community, and Public Health Department.
In related news, the Tuolumne County Board of Supervisors took time to pass a resolution recognizing National Crime Victims' Week at their meeting this week in support of crime victims and assistance providers. At the recommendation of District Attorney Laura Krieg, the supervisors officially proclaimed the week of April 19-25 as Victims' Rights Week in the county and awarded certificates of recognition for outstanding crime victims' services to Detective Brandon Lowry, Deputy Sabrina Cable, Officer Ryan Webb, Mandy Tudor, Alyssa Najera, Betsy Kelly, and Carol Haflich.
The resolution acknowledged the essential role of the entire community in protecting and supporting crime victims and need for service providers to engage with and learn from victims' communities about ways to help and heal them. It also noted that in 2014, the DA's Victim/Witness Program provided support services to 750 victims of all types of crime.
"While we all realize that this is a beautiful place to live…violent crime does occur in our community and it's important that victims…have our support and feel they have a voice in the process," stated Krieg, also indicating that the DA's Victim Witness Program office includes three dedicated advocates on staff to help support that need. The program and Prevent Child Abuse Tuolumne County Council will soon celebrate their fifth year observing Child Abuse Prevention Month with a round-table luncheon to raise awareness of victims' rights.