Expo Efforts Hope To Grow Mother Lode Business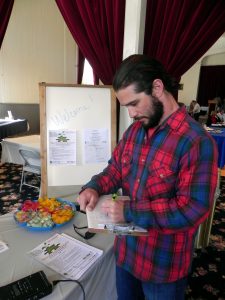 Grow Your Business Expo 2015, Thomas Salado-Poor signs in

View Photos
Sonora, CA – Business was most definitely abuzz in downtown Sonora, as state and local government agencies, nonprofit assistance groups and lenders effectively created a small business resources mecca.
When queried about what he hoped to find at Wednesday's free "Grow Your Business Expo 2015," Thomas Salado-Poor, of Sonora-based Nature's Whole Food Depot replied, "Honestly, I'm always looking for knowledge. I'm a small businessman…a store manager of my parents' store that they own. One day it will be mine, Lord willing, and so I'm trying to gain as much knowledge as possible."
Sonora Opera Hall hosted over a dozen exhibition booths from 8 a.m. until 12:30 p.m. Break-out sessions, held at Stage 3 Theatre, included presentations on funding business growth, marketing, and selling to the government. A multi-agency effort; sponsors included the City of Sonora; Tuolumne County Economic Development Authority; Mother Lode Job Training; SCORE/Tuolumne County; America's Small Business Development Council (SBDC); U.S. Small Business Administration (SBA), and Stanislaus Business Alliance. Following the expo, the Innovation Lab held an open house at its offices that provided a light lunch and refreshments to event-goers.
State Seeking Local Vendors
State agencies were out in numbers looking to connect with smaller market vendors. Michael Aguillio, State of California Small Business/Disabled Veteran Business Enterprise (SB/DVBE) liaison officer, explained, "We have Cal Fire, the Department of Corrections, Caltrans and Parks and Rec [participating in the Expo], as we feel that these departments represent some of the businesses that we have in this particular area."
Currently, according to Aguillio, the state has a mandated 25 percent inclusion goal for its procurements to include small businesses and a five percent goal for DVBEs. "The agencies that are here," he pointed out, "the first thing they would ask is if you are a Certified Small Business or DVBE, and one of the reasons why I am here is to help those particular individuals get certified or started on their applications."
Certified vendors are added to the state SB and DVBE database, which allows its agencies, through a simplified process, to gather quotes from two like businesses that supply the same product, and award contracts up to one quarter-million dollars. While, obviously, not everybody will find business with the state, Aguillio noted, "I believe that to take the 40 minutes to get certified is well worth the time…as all the agencies are looking to do business with small businesses."
Tapping Free Small Business Resources
Among the exhibitors was Tuolumne County Small Business Alliance partner SCORE, which provides free, confidential resources, information, counselors, and mentors at its local office in Sonora. While attending to the group's booth, Central California SCORE chairman Steve Farrell stated to contact SCORE, "If you're currently in business and have any kind of issues that need help, if you want to start a business — or if you want to buy or sell a business…it's all free counseling with government backing…a great local resource for people."
At its booth, the Small Business Development Center also promoted its free services for start up and existing businesses. "We've definitely seen an uptick of people contacting us, more people…returning for more services…to do a business plan, or come back for help on marketing or bookkeeping functions," stated Katy Winders, the center's assistant director of finance and operations. Among the center's offerings: business consulting offered by some 50 experts in a variety of specialties; help in creating business and marketing plans; and website design and assistance in helping people learn to manage their own websites.