High Praise For Volunteering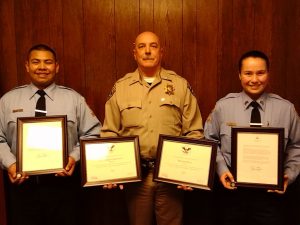 President's Volunteer Service Award winners Guillermo Hernandez and Brianna Gill (in middle) CHP Lieutenant Dewayne Lewis

View Photos
San Andreas, CA – They earned no less than a presidential nod for giving of their free time.
Two Calaveras County youths involved in the California Highway Patrol's (CHP) Explorer program received the praise from President Barack Obama. Brianna Gill and Guillermo Hernandez were honored by the White House with President's Volunteer Service Awards.  Members of the Explorer program with the San Andreas office of the CHP for the past two years, both are also currently students at Calaveras High School.
During a training session at the unit office, the two were recently presented their award plaques by CHP Lieutenant Dewayne Lewis in recognition of their hard work. Brianna was given the Silver Award while Guillermo received the Bronze Award.
The awards, which intend to encourage citizens to live a life of service through presidential gratitude and national recognition, recognize United States citizens and lawfully admitted, permanent residents who have achieved a required number of hours of service over a 12-month time period or cumulative hours over the course of a lifetime.