Lost Hiker Rescued In Yosemite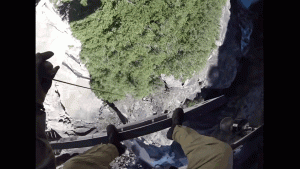 Yosemite Rescue
Yosemite, CA — A missing hiker was rescued in Yosemite National Park over the weekend, and the CHP Air Division caught it on video.
22-year-old Kevin Baik had been hiking with friends on Friday along the Yosemite Falls Trail, and tried to take a shortcut back down to the bottom. Long story short, he ended up near the edge of a 320 ft. cliff, and could not find his way to safety. He decided to build a fire and await emergency officials.
Yosemite Search and Rescue contacted the CHP and saved Baik on Saturday morning. Park Ranger Jack Hoeflich was hoisted down to the location and helped rescue the stranded hiker. From there he was flown to the Ahwannee Hotel and turned over to Yosemite Search and Rescue personnel. Baik, who a resident of Garden Grove, California, was not injured. The CHP reports that it is important to stay on designated trails, or you could find yourself in a similar situation.
Click on the video box in the upper left hand corner to view the rescue.