Murphys Prepares To Celebrate Irish Day This Weekend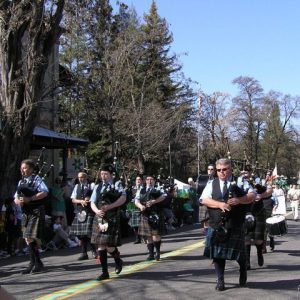 Led by the White Hackle Pipe Band, the Murphys Irish Day Parade makes its way down Main St.

View Photos
Murphys, CA – Irish Day in Murphys makes a splashy arrival this Saturday, ringing in spring's first weekend, as it happens, with a host of new and different vendors and a closely guarded surprise for parade goers, according to one event organizer.
Off the bat, Irish Day spokesperson Michelle Plotnik comments with a smirk, "I can't tell you anything about the surprise. It's related the parade and you'll find out later or during!" With a rain-free forecast predicted, she says that organizers expect attendance figures to the free event to range somewhere between 10,000 and 12,000, although no one keeps an actual count.
"We typically end up pretty darn crowded…so we're not looking for 50,000 people to show up. We want it to be a good experience for everybody," she states of the event, which draws heavily from around the Mother Lode and outlying Bay Area and Central Valley. "It's a pretty well-known event, regionally. We want it to be pleasantly crowded and have good energy."
In direct response to last year's attendees, Plotnik adds that this year's event will feature many more new and different vendors; over 100, in total. "We do limit our vendors to folks who make handmade items or who sell things that are in the vein of the event, so with some kind of Celtic or Irish theme, or that they are one of our local businesses in Murphys," she explains. Food and libations are more than covered, she promises. "We have a big variety…not all Irish theme… and all of our local restaurants and tasting rooms are open." There will also be wine and beer sales on the street during the event; the brews from local craft beer maker Snowshoe as well as from Prospectors Brewing, which recently opened in town. Raffle tickets for sale at the Native Sons Hall boast a grand prize Ireland trip for two.
The official hours of the event run from 10 a.m. until 5 p.m., with live entertainment around town and children's activities to include a petting zoo. Plotnik suggests anyone wanting to attend the 11 a.m. parade come early to snag a spot. Expect traffic congestion at the Highway 4-Big Trees intersection and nearby private parking lot, she says, adding that the best approach into Murphys is by using Highway 4 instead of Murphys Grade. Main Street and many of the surrounding side streets will close from 6 a.m. until 6 p.m. Several free shuttles between Ironstone Vineyards and downtown Murphys will run every 20 to 30 minutes from 9:30 a.m. until 5:30 p.m., courtesy of the winery and Murphys Business Association.
"People should really consider parking out at Ironstone and riding the shuttle into town," Plotnick confides. "There's the Daffodil Show going on out there and so it's a beautiful place to park and wait to take the shuttle…parking in and around town and traffic with good weather is likely to be challenging."
For the early starters, a pancake breakfast will be served from 8 to 10:30 a.m. at the Congregational Church on the corner of Church and Algiers streets, featuring ham, eggs, pancakes, juice and coffee.
Irish Day, held annually in Murphys and one of the town's most popular draws, celebrates its founders John and Daniel Murphy and the Celtic heritage of the hamlet, founded in 1848. The event, which falls on the third Saturday in March, also honors the patron saint of Ireland and proceeds St. Patrick's Day.