Water Districts Dealing With Drought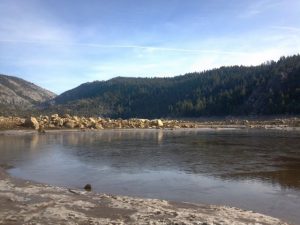 Pinecrest Lake

View Photos
Sonora, CA — Despite the fourth year of drought, the water supply for the Tuolumne Utilities District is looking much better than this time a year ago.
Pinecrest Lake is currently holding 10,200 acre ft. of water, and full capacity is 18,300 acre ft. Lyons Reservoir has 3,800 acre ft. presently, and capacity is 5,500 acre ft. T.U.D. General Manager Tom Scesa said, "PG&E continues to predict that both Pinecrest and Lyons will 'fill and spill.' With those reservoirs filling and spilling, that's adequate supply for our community, with reasonable conservation measures."
The Governor is calling for voluntary conservation of 20%, and Scesa indicated that T.U.D. will likely put in place conservation measures in April, at similar levels that the Governor is requesting.
It's not quite as rosy for the Lake Don Pedro Community Services District. General Manager Pete Kampa said the primary water source, Lake McClure, is only at 7% capacity. As it stands right now, there is enough supply in the lake to supply customers through mid-August.
As reported previously, this is why the district has now implemented mandatory 50% conservation measures and placed a ban on outside irrigation. In addition, the district has been working to drill additional wells, with help from state grant funding, and looking at other emergency measures.
The District is also hoping that higher level water officials will rethink planned water releases that are scheduled to pick up in April, primarily to help fish species.
The County Supervisors voted this week to extend the local state of emergency declaration related to the drought.