Curtis Creek Elementary To Celebrate Sesquicentennial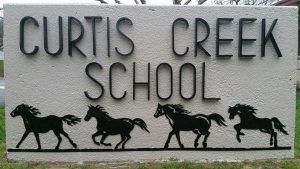 Curtis Creek Elementary School entrance sign

View Photos
East Sonora, CA — A local elementary school with post-Civil War roots plans to pull out all the stops in celebration of its 150th anniversary and hopes its supporters will, too.
Curtis Creek Elementary, which was awarded $20,000 from the California Teachers Association to commemorate its Sesquicentennial May 15-16, will focus on "building community with community" with the funds, according to teacher and grant organizer Liz Miller.
While a good deal of the grant will go towards the creation of a large-scale mural that depicts the school's rich history, Miller says the two-day celebration, itself, will involve student experiential learning and presentation, along with community participation from partner stakeholder groups and anyone with past or current ties.
"We started a Facebook page to get in touch and postcards are going out this week to retirees, past and current families…former employees, staff members, board members… anyone who participated in our school in any way. Those are the people we'd like to come back and participate in our celebration," Miller explains.
This Wednesday, planners from the school will meet with interested retirees and families from 1:45 to 4 p.m. to help plan the two-day celebration.
The school is already busily at work on a student program to be held on Friday May 15, which will include displays and performances involving such subject areas as the Western Movement, American art, rocketry, jewelry-making, quilting, and gardening. Other attractions will be a geo cache trail, an archaeological perspective of the school's historic grinding rock site, along with a book fair, dunk tank and other carnival games. Stakeholder partners that continue to support the school are also expected to turn out, such as the county Sheriff's Dept., Forest Service, Family Fit, Master Gardeners, and Audubon Society.
The Saturday, May 16 event, which will be open to the public, will be accessible via shuttle from the Sierra Bible Church parking lot. "It will be set up like a county fair with a stage," Miller says. In addition to the programs and displays from Friday, performing groups such as the school choir, third grade recorder group and Red Hot Chameleons will take the stage and there will be a full complement of carnival food booths, traditional games and dances and a barbecue.