Sonora Police Frame Chiefs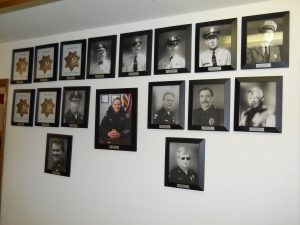 SPD's Wall of Chiefs

View Photos
Sonora, CA — Several former police chiefs have already been framed and the Sonora Police Department need the public's help to track down more — pictures that is.
The department is searching for photographs of former police chiefs to recognize and honor.  The framing and putting up of pictures along a wall inside the station has been going on for several months with help from volunteers.  However, the they have run into a roadblock, as neither the city nor the department kept photos of the chiefs or a record the dates they served.
Current Chief Mark Stinson adds, "Also, compounding this was the fact the City has not retained any records of the past Police Chiefs.  This made it challenging to track down the Chiefs and the actual order that they served as Chief for the City, along with locating any photographs of them.  Even though the City has a long history of law enforcement, dating back to the 1850's, at which time Officers were referred to as City Night Watchmen, it was decided the display would start at 1910 and moved forward from there."
That is why the public's help is needed.  If you have or know anyone who may have former chief's photographs, please contact the Sonora Police Department at 532-8141. One note, before 1928 chiefs were called City Marshals.
Here is the  SPD's  list of the Chiefs whose pictures are still needed and the time they served:
Chief W.H. Dennis Circa 1910-1920
Chief William Johnson 1928-1934 (First Official Chief of Police)
Chief Charles Hale 1934-1939
Chief Dewey Walker 1959
Chief Delbert Gorman 1959-1960