Legendary Locals Of Yosemite National Park & Mariposa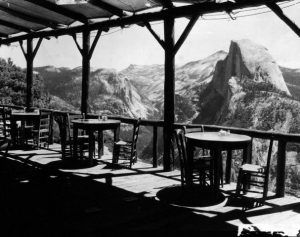 Glacier Point Cafeteria

View Photos
In his fifth of a series of books that date back to the 1990's, author and photographer Leroy Radanovich has finished his latest installment called "Legendary Locals of Yosemite National Park and Mariposa County".
Radanovich was Thursday's KVML "Newsmaker of the Day".
The lifelong resident of Mariposa county is a direct cousin of former Congressman George Radanovich, who represented Tuolumne, Mariposa counties and areas further south to Fresno.
The new book will be released to the general public on Monday, March 9th.
According to Radanovich, "In 1846, Thomas Larkin, American council general to the Mexican government in California, purchased a Mexican land grant, Las Mariposas, for Col. John C. Fremont. The grant consisted of 10 square leagues of grazing land located near the Merced River and west of the Sierra.
In 1848, when California became the possession of the United States, the treaty called for the recognition of preexisting grants. Gold was discovered in the foothills of the Sierra that same year. Fremont floated his questionable Mexican grant into the gold discovery region. With the formation of the State of California in 1850, one of the original counties was named Mariposa, Spanish for "butterflies." Located within the county was the Fremont grant and much of the yet undiscovered Yosemite region of the Sierra.
Encounters with Native Americans near the mining camps lead to the formation of the Mariposa Battalion, and a search for the natives led to the American discovery of Yosemite Valley. Thus, it was custodians and photographers such as Charles Leander Weed, Carlton E Watkins, J.J. Riley, George Fiske, Ansel Adams, and many others that interpreted and introduced Yosemite to the world."
There are about two historical photographs on every page of the 125 page book.
Radanovich said that this book was years in the making and he is excited for its release.
"Legendary Locals" is a selection of books published from Arcadia Publishing. For more information, log on to www.legendarylocals.com
The "Newsmaker of the Day" is heard every weekday morning on AM 1450 KVML at 6:45, 7:45 and 8:45 AM.