County Concerned By Increasing Fire Insurance Costs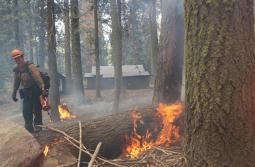 Rim Fire

View Photos
Sonora, CA — Tuolumne County has been working to find ways to address rising fire insurance rates that several home owners have been facing after the Rim Fire.
It's a topic of concern that's been voiced by many community members to county leaders. The Board of Supervisors heard an update from CAO Craig Pedro this week about the local efforts to investigate the matter. The county recently had a survey on its website where residents could share their experiences. Some reported insurance increases of around $500-1,000, while others jumped by $2,000 – $4,000. Pedro noted that reasons given by insurance companies for the spike has included, "brush fire potential", "distance from a fire station", "high risk of exposure," to simply "the Rim Fire." It was also noted that some insurers are no longer choosing to provide service in the area.
CAL Fire is one agency the county is working closely with on this matter, and local Unit Chief Josh White was on hand at the meeting. He noted that the Rim Fire burned 257,000 acres, but only 11 homes were destroyed. It was a relatively small amount given the magnitude of the fire, which he said speaks to the success that the fire service has in protecting homes and property.
Among other things, the county plans to seek assistance from the California Department of Finance on this issue, and appeal a recent ISO rating for the Tuolumne County Fire Department.