Info Meeting Regarding Lake Tulloch This Saturday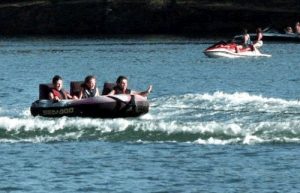 Lake Tulloch Recreation

View Photos
In recent days, there has been news coverage about the possibility of significant releases of water from Tulloch Reservoir during the coming months.
Joel Metzger, Community Relations Manager with the Calaveras County Water District, was Wednesday's KVML "Newsmaker of the Day".
The Tri‐Dam Project, the operating agency formed by the Oakdale Irrigation District and South San Joaquin Irrigation Districts, continues to monitor conditions and develop plans to contend with the ongoing impacts of the four‐year California drought while simultaneously developing contingency plans in the event of a potential fifth dry year in 2016.
An informational community meeting will take place this Saturday from 10 AM – Noon in Copperopolis at the Black Creek Center, located at 920 Black Creek Drive.
The CCWD will be at the meeting as well. Any possible drainage could affect anywhere between five thousand to seven thousand of their Copperopolis customers. The CCWD intake in Lake Tulloch serves 2,500 connections.
Metzger says that the CCWD will attempt to do whatever it takes to make sure that their Copperopolis customers continue to receive water.
Tri‐Dam operates Tulloch Reservoir under a license issued by the Federal Energy Regulatory Commission (FERC), and is responsible for Reservoir operations and management.
Tulloch Reservoir was constructed by OID and SSJID to provide irrigation water to downstream users, and generate hydroelectricity to meet electric service needs within California. Tri‐Dam believes that it is vitally important for local residents and area citizens to fully understand the regulatory requirements affecting the water levels at Tulloch.
Tri‐Dam said in a press release that they remain committed to working with the community to collectively operate Tulloch Reservoir within the mandated regulatory requirements and the myriad of factors affecting the reservoir.
The "Newsmaker of the Day" is heard every weekday morning on AM 1450 KVML at 6:45, 7:45 and 8:45 AM.