Lawmakers Recognize Poetry Out Loud Top Finishers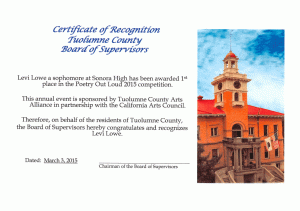 County Proclamation For Poetry Out Loud

View Photos
Sonora, CA — The top finishers in the Tuolumne County "Poetry Out Loud" competition received accolades from county, state and federal lawmakers.
Poetry Out Loud is a student competition put on by the Tuolumne County Arts Alliance, and this year's winner was Levi Lowe, a Sophomore at Sonora High School. The runner up was Mia Primrose, a senior at Summerville High School, and the third place finisher was Maya Rowe, a junior at Connections Visual and Performing Arts Academy. Lowe and Rowe were on hand at today's Board of Supervisors meeting, and the county awarded them with Certificates of Recognition. County Supervisor Randy Hanvelt then surprised the two with Certificates of Recognition from Senator Tom Berryhill, Assemblyman Frank Bigelow and Congressman Tom McClintock. Certificates will also be presented to Primrose, who could not attend today's meeting.
Lowe will represent Tuolumne County at the state's Poetry Out Loud competition to be held in Sacramento on March 15-16.