Rim Fire: Reforestation Proposal Released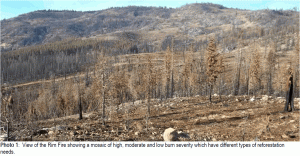 Rim Fire Burn Area

View Photos
Sonora, CA — The Stanislaus National Forest is firming up its plans for reforestation within the Rim Fire footprint.
The Forest Service has released a proposal that calls for reforestation efforts on over 30,000 acres, plantation thinning on 11,000 acres, noxious weed eradication on nearly 5,000 acres, and creating 480 acres of additional deer habitat.
Rim Fire Recovery Spokesperson Georgia Dempsey says, "One of the big features of the reforestation plan is that we're really trying to emphasize trying to get a fire resilient landscape in the future."
The reforested area would see prescribed burning, herbicide site preparation, and planting a diversity of conifer tree species, using various patterns and densities. It also includes thinning and planting on 7,307 acres of existing tree plantations that are under-stocked, due to high burn severity from the Rim Fire.
The Forest Service will prepare an environmental impact statement for the proposal, accept public comments, and the completion of the Environmental Review is expected in the summer of 2016. You can find all the plan details, with information on how to comment, by clicking here.