Farmers Not Optimistic About Water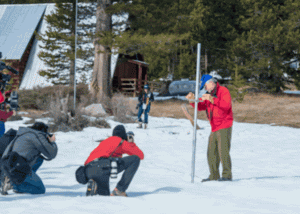 Frank Gehrke Measures Snow

View Photos
Sacramento, CA — The Bureau of Reclamation is expected to announce later today how much water it will release from a federally operated system of canals and reservoirs.
The Associated Press reports that Central Valley farmers are preparing to receive no irrigation water, for the second year in a row. California is in the midst of its fourth year of drought. Last year thousands of acres went unplanted, or was irrigated by pumping scarce ground water.
Meanwhile, the State of California is planning to deliver about 15% of water requested by farmers, via its state water project, which relies heavily on Sierra snowpack. As reported yesterday, the snowpack is about 19% of average for the date.
More precipitation is anticipated this weekend. Click here to see the latest information from the National Weather Service.