Field Poll: Mixed Response For Jerry Brown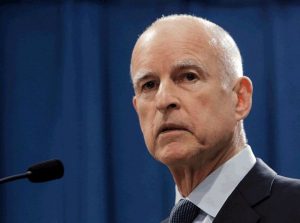 Jerry Brown

View Photos
Sacramento, CA — A new poll shows Governor Jerry Brown has strong overall support, but many are concerned about some of his proposed projects.
A Field Poll found that Brown's approval rating is 56%, slightly down from September, when his approval rating was 58%.. It notes that 76% of Democrats approve of Brown's job performance, 54% of independents and 27% of Republicans. 54% of voters say Brown has the vision to lead California into the future, and 53% believe he deserves credit for turning around the state's finances. However, 57% also say that he favors too many big government projects that the state cannot afford. Brown has been a strong proponent of high speed rail, and a plan to build twin water tunnels.
Brown's highest overall approval rating was in April of last year, when 59% approved of his job performance. His lowest was May of 2012, when only 43% approved.  The latest poll was conducted between January 26 and February 16.