Governor Hands Out Local Appointments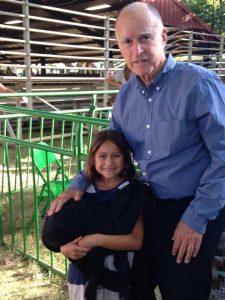 Governor Brown with Katie Morelos and her baby goat at the Mother Lode Fair

View Photos
Sacramento, CA – Today the Governor announced some agricultural appointments involving Mother Lode residents.
Two Tuolumne County residents have been reappointed to the 29th District Agricultural Association, Mother Lode Fair Board of Directors.
Sonora resident, Daniel Brown, 70, has served on the board since 2014.  Brown's background includes engineering where he worked for the Tuolumne County Public Works Department from 2002 to 2010 and at the U.S. Department of Agriculture Forest Service from 1976 to 2002.  He also worked for the California Department of Motor Vehicles and Department of Transportation in the 70's.  Brown was an E4 in the U.S. Navy Seabees in the 60's.  He is treasurer for the Vietnam Veterans of America Chapter 391 and for AMVETS, and a member of the Sonora Elks Lodge 1587.
Tuolumne resident, Jan Costa, 77, has also served on the board since 2014.  Costa was an administrator at the Chicken Ranch Tribal Office of Me-Wuk Indians of California until 2012.  She has also worked as a rancher and an internal auditor and marketing manager.  Currently, Costa is a member of the Sonora Chamber of Commerce Board and on the Civic Advisory Board for Sonora Regional Medical Center.
Additionally, Mariposa resident, Charles Phillips, 49, has been reappointed to the 35th District Agricultural Association, Mariposa County Fair and Homecoming Board of Directors.  He was first appointed to the position last year.  Phillips has worked as an independent photographer, school maintenance employee and park aide in both Salinas and Monterey County.  Phillips currently was a conservation aide for the National Park Service Youth Conservation Corps in 1982.  Phillips is a member of the Mariposa Butterfly Festival Board, Mariposa County Business Association, Mariposa Photography Club, National Geographic Society's Sierra Nevada Wide Geocouncil and the Mariposa County Arts Council.
The Governor's Office says these positions do not require Senate confirmation and there is no compensation.  Phillips is a Republican while Brown and Costa are Democrats.