End Of Road For Disc Golf Course?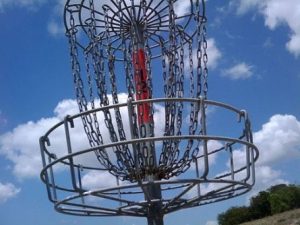 Disc Golf

View Photos
Sonora, CA — The T.U.D. Board of Directors will vote whether to seek legal counsel in relation to potentially removing a disc golf course from its Sierra Pines property.
We've reported previously how six years ago a group of disc golf players established a course on the district's property in Twain Harte, without permission. Over the past year, the course's popularity has grown due to the posting of YouTube videos, and even a booth set up at the county fair. As many as 50-70 players now come to the course on busy weekends.
The disc golf players have organized cleanup efforts, installed trash cans, and put up signs promoting responsible play. The group has expressed a willingness to raise money for needed insurance, related to having a disc golf course, and for a Local Agency Formation Commission review.
That said, T.U.D. reports there has been some camping on the site, with a campfire. (The proponents argue there is no indication the camping was a result of the course) There have also been reports of evening games, with substance abuse. A complicating factor is that part of the course is situated at the location where T.U.D. eventually plans to construct a new water treatment plant, at some point in the future. The District would like the group to relocate the course over the next couple of months, at the Sierra Pines property, but the group has expressed a resistance to move, until a time when it's absolutely necessary. T.U.D. staff members feel that resistance to move away from the future treatment plant will only increase with time.
The District has stated that it will give the club a 30-day notice before they would need to leave. Staff is recommending that the Board seek legal counsel in relation to that potential action. Tuesday's meeting will start at 5:30pm in the T.U.D. district office.
Our list of other Disc Golf Courses in the area is here.